---
At UTAGENE, we think about performing accurate diagnostic tests
as quickly as possible.
We aim to launch up-to-date and leading diagnostic platforms for a variety of infectious and cancer diseases, food and agriculture of high speed, and the possibility of point-of-care testing; accordingly, we will complete our applied knowledge and product portfolio and cooperate with experts. We believe that our initiative and effort today, relying on current knowledge and interdisciplinary sciences, within the framework of quality assurance guidelines, will be able to enhance the future of disease diagnosis and human health.
---
Mission
Our commitment is to care for human health and improve the quality of health services and keep moving on the way to finding or building new solutions for more accurate and faster diagnosis of diseases and infections.
---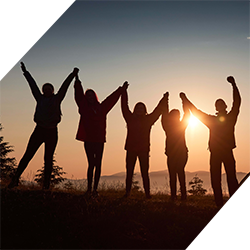 ---
Partnering
We believe that collaborating with other people from different specialties leads us to our goals in launching new diagnostic platforms.Hence, we have been in contact with academic groups, producers, and specialists in various fields and We welcome new opportunities in this regard.
---