Children's Cell and Gene Therapy Research Center of Tehran University of Medical Sciences in cooperation with Children's Medical Center Hospital will hold the 7th Gene Therapy Scientific Symposium on 26 Januaru 2023 at the Children's Medical Center.
Children's Medical Center Hospital, Symposium has 4.75 retraining points for the target groups of hematology and oncology for children and adults, master's degree and doctorate in genetics, biotechnology, immunology, hematology, virology and applied cell sciences.
Dr. Amir Ali Hamidieh said that the science of gene therapy has been proposed since the 70s, but due to the problems in this field, it was stopped and went through many ups and downs. In the past decades, many countries have treated this science with a conservative view. But today, due to the advances in gene therapy in the field of monogenic diseases and cancer, researchers hope that this science will be a practical alternative for the treatment of those diseases for which no serious solution has been found so far. Considering that gene therapy technology will create improvements and changes in the field of treatment of monogenic diseases, gene manipulations in the treatment of cancers and genome editing, definitely in the next 5 years this technology will have a special importance and place among the technologies. The increasing progress of this field has caused many prominent scientific centers of the world to be interested in doing activities in this field.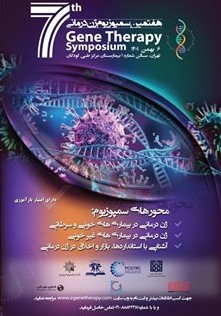 The 7th Gene Therapy Symposium continues after the opening ceremony with 3 panels and 16 speakers from different universities of the country. A question-and-answer program will also be held at the end of each panel.
Among the main achievements of this symposium will be the familiarization of researchers and young students with the field of gene therapy and its applications in the treatment of various diseases and informing the new generation of the country about the current and future state of the gene therapy market. Certainly, the presence of policymakers in this symposium will provide a suitable platform for the benefit and activity of those interested and the promotion of this field.
Reference: https://pr.tums.ac.ir/